Academy Award for a Textbook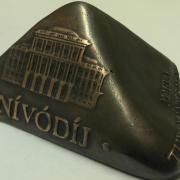 The book "Formal Methods in Computing" edited by Miklós Ferenczi, András Pataricza and Lajos Rónyai was published by Akadémiai Kiadó, the publishing house of the Hungarian Academy of Scences (HAS). This book won an Academy Award upon the proposal of the Section of Mathematics of the HAS.
The honorary diploma and a bronze figure were awarded today in the framework of the event series in honour of the the Hungarian science at a festivity held in the Library of the HAS.
This collection of tutorials has been written by the members of the Working Group on Formal Methods at the Regional Centre of the Hungarian Academy of Sciences, Veszprém (VEAB). The group was composed of mathematicians and engineers, all of them with strong interest in computation.
The chapter "Metamodeling and Model Transformations" was co-authored by András Pataricza and Dániel Varró.