SRDS 2016 konferencia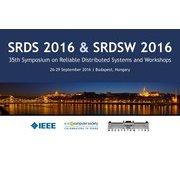 Csoportunk kutatói szervezték 2016. szept. 26. és 29. között a 35th IEEE Int. Symposium on Reliable Distributed Systems (SRDS 2016) konferenciát, ami a kritikus elosztott rendszerek (pl. CPS, felhő) egyik legjelentősebb tudományos konferenciája.
A konferencián 71 kutató vett részt a világ 14 országából. A tudományos eredményeket a következő szekciókban vitatták meg:
Security
Failure prediction and detection
Cloud computing
Geo-replicated storage
Algorithms I
Erasure-coded storage
Algorithms II
Networking and systems
A konferencia első napján a "Workshop on Mobility and Cloud Security & Privacy (WMCSP 2016)" és a "4th Workshop on Planetary-Scale Distributed Systems (W-PSDS 2016)" workshopokra került sor.
A konferencia "General Chair" tisztségét dr. Pataricza András és dr. Majzik István, a "Local Organizing Chair" tisztségét pedig Huszerl Gábor látta el. A csoport szinte valamennyi tagja közreműködött a szervezésben és előkészítésben.