Részvétel a MoDELS'17 konferencián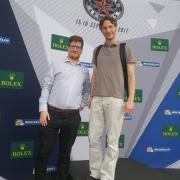 Kutatócsoportunk munkatársai, Debreceni Csaba és Varró Dániel prezentálták a kollaboratív modellezés területén végzett kutatásaink eredményét az ACM/IEEE 20th International Conference on Model Driven Engineering Languages and Systems konferencián, mely idén Austinban, Texas államban került megrendezésre.
A konferencián munkatársaink prezentálták a modellezés során használható tulajdonság alapú zárolási stratégiát konfliktusok megelőzésére, illetve bemutatták hozzáférési szabályok inkrementális kiértékelésének lehetőségét. Debreceni Csaba az ACM kutatói versenyén 1. helyezést ért el munkájával: Advanced Techniques and Tools in Secure Collaborative Modeling.
A prezentált cikkek részletesen az alábbi felsorolásban találhatóak:
- Csaba Debreceni, Gábor Bergmann, István Ráth and Dániel Varró: Property-based Locking in Collaborative Modeling, MoDELS'17, Austin, TX, USA, 2017
- Gábor Bergmann, Csaba Debreceni, István Ráth and Dániel Varró: Towards Efficient Evaluation of Rule-based Permissions for Fine-grained Access Control in Collaborative Modeling, CoMMitMDE@MoDELS'17, Austin, TX, USA, 2017
- Csaba Debreceni: Advanced Techniques and Tools in Secure Collaborative Modeling, ACM Student Research Competition@MoDELS'17, Austin TX, USA, 2017 (supervisor: Dániel Varró, co-supervisors: Gábor Bergmann, István Ráth)