SecureChange General Assembly in Milton Keynes, UK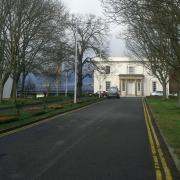 The three-year span of the SecureChange EU research project is nearing its completion this January. The last General Assembly before the final review was held between 18-19 of January, at the campus of Open University in Milton Kenes, UK. In addition to the university, the town is also famous for Bletchley Park, the secret location hosting Alan Turing and the rest of the codebreakers during the Second World War.
As the project is running out of time, there was no use of planning any future research activities. Therefore this last General Assembly was short and focused mainly on the preparation for the upcoming review. Our research group was represented by dr. Dániel Varró, Gábor Bergmann and Zoltán Micskei.