SecureChange final review in Leuven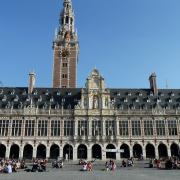 The final review of the SecureChange EU FP7 research project was held in Leuven, Belgium, on the 28th and 29th March 2012. The results of the third year of the project, as well as a summary of the entire three-year span of research were presented to EU-mandated reviewers. The reviewers posed questions based on the presentations and written deliverables, and then retired behind close doors; in the end, they announced that they accept the work of the SecureChange consortium.
BME participated in research throughout the three years as an academic partner. Our involvement was primarily focused on the work packages for security requirements modeling and model-based testing. The former motivated the development of the SeCMER prototype tool for requirements modeling, that was demonstrated during the review. In addition to this, SecureChange supported the research and publication activity of our research group in numerous ways, for example by co-financing the development of the EMF-IncQuery tool.
Our research group was represented at the review by Zoltán Micskei and Gábor Bergmann.