Presentation at the ECMFA 2012 conference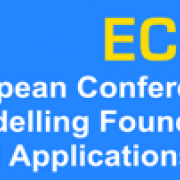 Representing our research group, Ábel Hegedüs presented the new use case of the EMF-IncQuery incremental model query engine for integrating queries into efficient derived features in EMF at the ECMFA 2012 (European Conference on Modelling Foundations and Applications) conference, held in Kgs. Lyngby.
Additional material (slides) related to the presentation is available on the VIATRA portal.